The second volume of Roots Jam rhythm books offers you, in one economical package: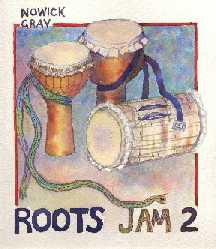 convenience of a comprehensive rhythm source – Now you can find over 125 African, Afro-Latin, and Middle Eastern rhythms in a single source. Arrangements of traditional rhythms have been widely researched and compiled, offering you both reliability and flexibility.
flexibility of traditional/creative arrangements – You can choose among primary parts and variations for djembe, junjun (or conga/surdo) and percussion.
audio/visual practice guides –

Simple box notation based on Olatunji "gun-go-pa" method indicates different drum notes, rests, and handing, and makes it easy for you to read and line up multiple parts.
Full-length practice CD allows you to match sound with notation and play along with (or solo over) popular traditional rhythms and arrangements.

tools for self-learning –

Explanatory material helps you understand underlying pulses and dynamics of polyrhythmic percussion.
This book will enable you to record what you hear and play by using simple written notation, which you can then easily share with others.
Exercises and generic patterns (for all skill levels) include djembe, junjun, bell and clave parts.
Guidance on tradition and improvisation, time signatures and handing, intentions and excellence, new directions for our rhythm culture.
Linked resource lists: music, books, websites, online rhythms.

ease of use and reference – Ring-bound, 8 1/2 X 11 pages open flat for play-along reference. Rhythm index organized alphabetically, by region/culture, and time signature. Audio CD has 28 demo and play-along practice tracks keyed to rhythms and page numbers.
 RJ2 excerpts and sample lessons