African Drumming Classes and Lessons

Please contact me if you are interested in private lessons in Victoria, BC. I may also offer group classes if there is enough interest and a suitable space to meet.

Learn to play djembe (dununs optional) and understand basic hand drum
rhythms from West Africa where these drums originated. You will find
these skills and rhythms useful in general drum circles, or if you play
other kinds of music, as well as for your own practice and enjoyment.

Contact: email
or phone 1-250-516-6144

All skill levels are welcome in the drumming classes and lessons.

Instruction will cover:

hand technique
basic djembe parts
dundun technique
basic dundun parts
simple rhythm notation to help remember parts
listening, timing and playing in a group

…and as you are ready…

traditional djembe solo variations
traditional dundun variations
rolls and other improvisation techniques

With my classes you have access to a Western perspective of African music which I can offer through my two decades of study and practice in a variety of musical and dance contexts.

I will provide written notation at no charge.  In addition students can purchase my Roots Jam rhythm books at a substantial discount.

Private lessons are available at $30 per hour. I can supply a
drum if you need one.

---

Free online course: Djembe Lessons for Beginners

Visit my YouTube channel and access free video lessons to get you started with basic rhythms and pointers, for both djembe and dununs.

---

About the instructor: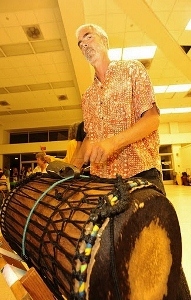 Nowick Gray has studied djembe and dunun rhythms in West Africa and elsewhere with master teachers who are at the top of the field, including Famoudou Konate and Mamady Keita. He has arranged the music and played dununs and lead djembe for West African dance classes and performed both with dance troupes and Afro-fusion percussion bands. He has also taught regular drum classes in Victoria, BC and Maui, Hawaii as well as workshops in such diverse locations as Tasmania and Thailand.