Roots Jam Rhythm Collections and Lessons
3 volumes to choose from ...
Each book has material for beginners, intermediate and advanced drummers.

Included:
Easy notation for a wide variety of popular drum rhythms - hand drum lessons - rhythm concepts - tips and tricks - resources - practice patterns - basic universal patterns - audio files - and more!
RJ 1: Collected Rhythms for Hand Drum and Percussion
RJ 2: West African and Afro-Latin Drum Rhythms
RJ 3: Arrangements for West African Drum & Dance
view contents mp3 samples order: US/Can <--> Int'l

more information about Roots Jam rhythm books ...

Roots Jam 3: Arrangements for West African Drum & Dance (2007)

This latest collection of rhythms helps you take the next step in playing West African drums for dancers, in a group, or just for fun. Whether you are a beginner or lead soloist, you will find here a valuable reference for basic djembe accompaniment parts, bass drum (dunun) and bell patterns and variations, and lead djembe solos.

Where Roots Jam 2 is more comprehensive, this latest compilation is more selective, drawing on the author's past five years of intensive study and practice to select complete and cohesive ensemble arrangements for 16 of the most popular traditional West African dance rhythms. You will also find new material to assist you in mastering traditional and improvised djembe solos; understanding basic downbeat, upbeat and offbeat timing structure; and choosing from among the most interesting bell and clave patterns for your own jams or arrangements.

Roots Jam 3 features notation for 27 original compositions for djembe, dununs and percussion. Audio tracks for these are available in mp3 or audio CD format, along with recordings of all 16 traditional West African rhythms. The traditional pieces are layered instrument by instrument to facilitate your learning of each part; then the ensemble is featured along with lead solos for listening or playing along. All tracks are recorded digitally using Percussion Studio software; the effect is close to live in quality, yet more precise to ensure the clarity of your listening and learning experience.

16 traditional West African dance rhythms in Roots Jam 3:

| | | | |
| --- | --- | --- | --- |
| Djole | Kassa | Mendiani | Soli |
| Doundounba | Kuku | Sinte | Sorsornet |
| Fula Fare | Lafe | Sofa | Tiriba |
| Guinea Fare | Makuru | Soko | Yankadi |

RJ3 excerpts and audio samples

Order now: US/Canada International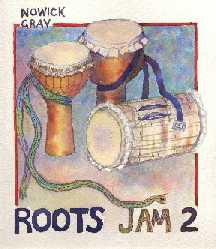 Roots Jam 2: West African and Afro-Latin Drum Rhythms is the second volume (2002), an updated and expanded companion to the first volume. It offers you, in one economical package:
convenience of a comprehensive rhythm source - Now you can find over 125 African, Afro-Latin, and Middle Eastern rhythms in a single source. Arrangements of traditional rhythms have been widely researched and compiled, offering you both reliability and flexibility.
flexibility of traditional/creative arrangements - You can choose among primary parts and variations for djembe, junjun (or conga/surdo) and percussion.
audio/visual practice guides -

Simple box notation based on Olatunji "gun-go-pa" method indicates different drum notes, rests, and handing, and makes it easy for you to read and line up multiple parts.
Full-length practice CD allows you to match sound with notation and play along with (or solo over) popular traditional rhythms and arrangements.

tools for self-learning -

Explanatory material helps you understand underlying pulses and dynamics of polyrhythmic percussion.
This book will enable you to record what you hear and play by using simple written notation, which you can then easily share with others.
Exercises and generic patterns (for all skill levels) include djembe, junjun, bell and clave parts.
Guidance on tradition and improvisation, time signatures and handing, intentions and excellence, new directions for our rhythm culture.
Linked resource lists: music, books, websites, online rhythms.

ease of use and reference - Ring-bound, 8 1/2 X 11 pages open flat for play-along reference. Rhythm index organized alphabetically, by region/culture, and time signature. Audio CD has 28 demo and play-along practice tracks keyed to rhythms and page numbers.

RJ2 excerpts and sample lessons

Order now: US/Canada

International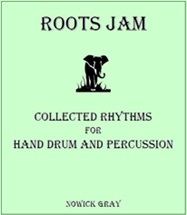 Roots Jam (1): Collected Rhythms for Hand Drum and Percussion (1996) is available in both print and electronic versions. This earlier version of Roots Jam contains hundreds of rhythms from the African, Latin, and rock traditions, and from original improvisations. Notation features emphasis on different key beats in a pattern, duets, breaks, exercises, popular styles. Tips on drum groups, jams, all-night drumming, and trance dance.

RJ1 sample pages

Order now: US/Canada

International
---
All 3 volumes of Roots Jam are available in ebook format, for quick reference on your computer. These Microsoft Word documents (also available in Adobe Acrobat PDF format for all platforms) allow quick search or custom printouts. Load them to your mobile phone or tablet for quick access to rhythms at your local jam or dance class.

The Roots Jam 2 ebook contains live links to resources and a set of mp3 files; these demonstration audio tracks are also available with extended practice loops (mp3 or audio CD). The Roots Jam 3 ebook also may be ordered with optional mp3 downloads or audio CDs.
---

Roots Jam will make the perfect gift for any drummer you know -- including yourself! Consider that, for the price of one drum workshop, you can have access to hundreds of rhythms, to tips and lessons you can access at your convenience.

Order Now: US/Canada International
---

5-Star Review - "A Unique Book"

About Roots Jam 1...

Roots Jam is a compilation of hand drum rhythms that is well presented, with an easy-to-understand-and-use notation that appears to be gaining some acceptance as a standard for hand-drum rhythm notation. This foundation has allowed me, a beginner, to use Roots Jam as one of my primary instructional books. I highly recommend this book to any one who hand drums.
--A.E. Rice, Albuquerque, New Mexico

About Roots Jam 2...

What a monumental effort! Combining theory, rhythms, scholarship, personal research, exercises and philosophy as well as technically combining text and audio examples. This is a comprehensive, readable and affordable reference for over 80 African rhythms and 40 others. The book also contains a new and important contribution; the identification and classification of generic rhythm patterns.
--Jean Vaucher, Montreal

Fun instruction for all levels...

Your books are great! Kids love the rhythms. Thanks!.
--Sharon S.

---
---

- By Nowick Gray
website design by cougar webworks